Who We Are
Formed in April 1977, the Jackson Historical Society helps preserve the history of Jackson, New Hampshire. The Society maintains collections of historical artifacts, maps, books, and documents.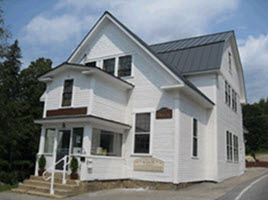 It also features 19th century art of the White Mountains with a permanent collection of paintings as well as an annual show and sale of White Mountain art.
The Society is located in the former Jackson Town Hall, which is listed on the National Register of Historic Places. It is a non-profit, membership-based organization led by a dedicated group of volunteers who strive to preserve and remember the past.
Come Visit Us!
We hope you will visit our historic displays, use our archives for your research, and enjoy our 19th century collection of White Mountain art.
We are open on Saturdays and Sundays from:
1:00 to 3:00 p.m. and by appointment.
Come Join Us!
Become a member by clicking here or become a volunteer by clicking here.
Current Events
Art Sale
The 21st annual White Mountain Art Sale is now running. There are over 60 items from private collectors, primarily 19th century paintings, but also contemporary paintings and memorabilia. Items are available for purchase as they arrive, so check the catalog often.
The Society is open on Saturdays and Sundays from 1:00 to 3:00 and also by appointment. Please contact info@jacksonhistory.org to consign artwork or learn more about the 2023 sale. Visit the Art Sale page to find out what items are for sale.
Upcoming Events
Reception for Art Sale
There will be a reception for this year's Art Sale on Friday, October 20, from 5:00 to 7:00 p.m.
There will be a short talk during the Reception. The topic will be "Relationship between Hillside Farms and White Mountain Art." The bucolic rural aesthetic of Jackson was captured by White Mountain Artists. Before hotels and estates, Jackson was covered in hillside farms. First-generation farms such as the Wentworth Farm, Dearborn/Davis Farm, Ham House, Hayes Farm, Burgesses, Moody, and Prospect Farms preceded the art, and they were already changing by the time they were painted.
Light food, wine, and beverages will be served.
Donations are appreciated.
Future Talks
Maps of the White Mountains, Part 3, by Peter Benson, focusing on less serious and more whimsical maps, Sunday November 12th at 4:00.
Chris Doktor is currently conducting research for his program on Architecture of Notable Buildings and Homes in Jackson