Who We Are
Formed in April 1977, the Jackson Historical Society helps preserve the history of Jackson, New Hampshire. The Society maintains collections of historical artifacts, maps, books, and documents.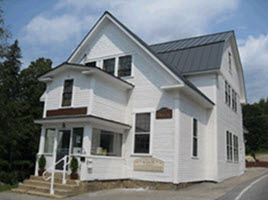 It also features 19th century art of the White Mountains with a permanent collection of paintings as well as an annual show and sale of White Mountain art.
The Society is located in the former Jackson Town Hall, which is listed on the National Register of Historic Places. It is a non-profit, membership-based organization led by a dedicated group of volunteers who strive to preserve and remember the past.
Come Visit Us!
We hope you will visit our historic displays, use our archives for your research, and enjoy our 19th century collection of White Mountain art.
We are open on Saturdays and Sundays from:
1:00 to 3:00 p.m. or by appointment.
Come Join Us!
Become a member by clicking here or become a volunteer by clicking here.
Current Events
Art Sale
The 21st annual White Mountain Art Sale is now running. There are over 60 items from private collectors, primarily 19th century paintings, but also contemporary paintings and memorabilia. Items are available for purchase as they arrive, so check the catalog often. The art sale will continue through the holidays. Paintings come and go frequently. A new consignment of a David Baker of Doublehead arrived recently.
The art sale is the Society's major fundraiser. The consignor of a painting gets most of the sale price, but our small commission has paid for investing over $250,000 renovating the Town Hall; over $50,000 to dismantle the Trickey barn, which the Town was going to demolish to make way for the Whitney Center, then donating the timbers to the Library; paying for the chairs in the Whitney Center; paving the parking below the Town Hall before we were tenants; and many other projects.
To see pictures from the Opening Reception, click here
The Society is open on Saturdays and Sundays from 1:00 to 3:00 or by appointment. Please contact info@jacksonhistory.org to consign artwork or learn more about the 2023 sale. Visit the Art Sale page to find out what items are for sale.
Upcoming Events and Talks
Future Talks
Chris Doktor is currently conducting research for his program on Architecture of Notable Buildings and Homes in Jackson